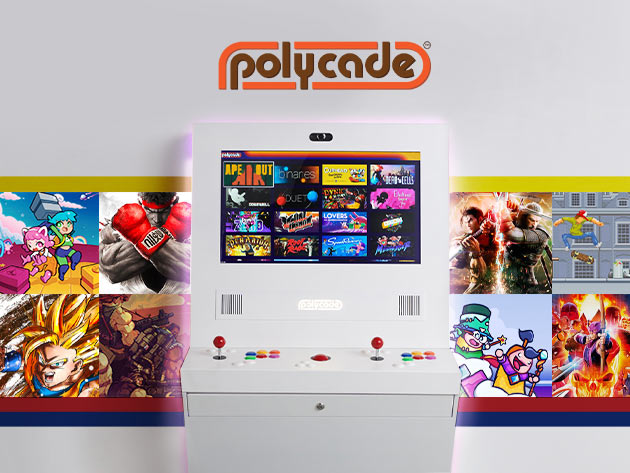 The Ultimate Home Arcade Polycade Giveaway
Enter to Win this Epic Home Arcade System + 54 Built-In Modern & Retro Games — Worth $4k Total!
Description
If the arcade machine was first designed today, this is what it would look like. Polycade is the only ultra-slim arcade machine that's been designed for both classic and modern games, giving you the ability to play everything from the best new indies, retro classics, or the most graphics-intensive modern fighters —
and we're giving one away for free.
In fact, we're even throwing in 54 pre-installed games, ranging from beloved classics to hot new modern games, including hits like
Street Fighter V
,
Mortal Kombat 11
,
DRAGON BALL FighterZ
,
Soul Caliber VI
,
Street Fighter X
, and more! When it comes to controls, Polycade gives you the best joysticks and buttons for perfect control accuracy; you can also connect a keyboard, mouse, extra storage, and more. With a minimal and elegant look, Polycade Home easily mounts to any wall for comfortable gaming.
Start playing right away with 54 pre-installed games + download thousands of others from existing platforms to make
Polycade Home into your own personal multicade
Play games from systems such as NES, SNES, Sega Master System, Sega Genesis, TurboGrafx16, & more
Stream in HD with the built-in camera & microphone
Mount the system easily on any wall
What You'll Win:
Polycade™ Home: Plug & Play Mounted Arcade ($3,999 value)
Ultimate Modern FIghting Game Pack including 54 pre-installed games ($450 value)
Total Value: $4,449